Mowing your yard is not something I look forward to doing, but since I purchased my new Lawn-Boy I must admit it is not as bad as it once used to be. Up until now I had been mowing my yard with an old MTD mower. After 5 years and a lot of use it finally up and gave out on me. So, I went shopping at Home Depot for a new one. The one I decided on is the Lawn-Boy Insight Gold Series 10695. There are many reasons why I chose this mower over the others.
I looked over every mower in the place, from Snapper to Toro. After seeing the features and knowing the quality that comes with a Lawn-Boy, I gave it a shot and made the purchase. At a price of $439.00 it is not an inexpensive mower by any means, but I was looking for a product that was going to last me for the next 5-7 years.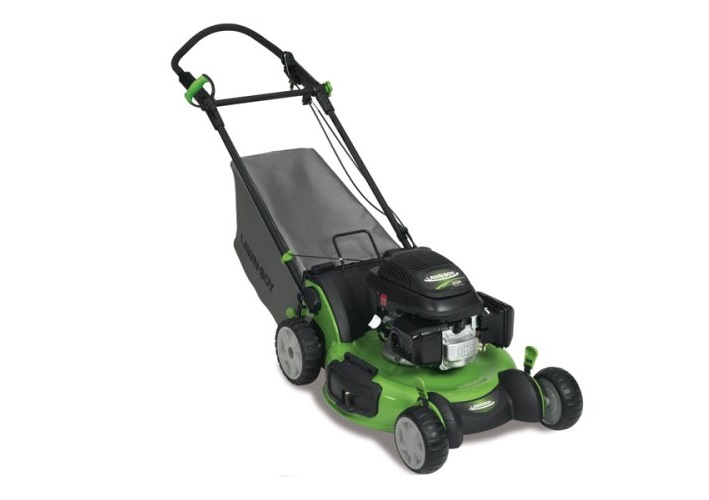 The Reason Why I Choose Lawn-Boy?
One of the biggest reasons why I went with the Lawn-Boy was due to its Honda 5.5HP engine. You can't get a better engine for a push mower than a Honda. It is as quiet as an engine on a mower can get, and the quality and durability is second to none. After having it now for a few weeks it has always started on the first pull. The only issue I have is that the automatic choke is supposed to go on and off, but it hasn't worked to well in my case. I don't know if that is a common problem or one that is unique to me.
One of the things I immediately noticed when I first used this machine was how light it felt. The Lawn-Boy is not heavy to start with, but it just has a lightweight feeling to it. Turning corners was effortless on my part. The handle is fully adjustable and allows you to get the right height so your back won't be aching from having to bend over too much. It also has a unique curved design that is somewhat similar to how you hold the steering wheel in your car.
Making mowing the yard even more enjoyable is the Lawn-Boy Sens-A-Speed self propelled system. This is something that has to be experienced. The mower actually adjusts to whatever speed you are walking at. It does this on a constant basis. As you pull in the foam covered handle the mower senses how fast you are walking. If you are walking faster than the mower is going forward, the handle compresses more. If you are walking slower than the mower, it pushes out a bit. As someone who has mowed grass for nearly 40 years I can't tell you how nice this feature is.
Changing the blade height on the Lawn-Boy is a snap. The wheels all have levers that pull out and adjust the height. Lawn-Boy also has a nice feature with their grass catcher on the mower. Do you know how most all mowers with a grass catcher have that door that you must hold up when re-attaching the bag to the mower? Not with Lawn-Boy. The door is actually in the bag. This makes things so easy when putting the catcher back on the mower.
I really like this lawnmower. It has made cutting grass so much easier. With its lightweight feel and many features, the Lawn-Boy Insight Gold Series is a very good mower that anyone should be happy with.
Great Lawn Mowers at Great Prices
It is coming up on the time of year when we all turn our attention to the outdoors and our lawns. We want to do the best job with the least amount of work to have the best looking lawn possible. A large part of lawn care is the way we mow. In order to get a good quality mowing, you will need a good quality mower to handle the job. There are some names that pop in to mind when you think of lawn mowers.
Well known name brands and there is a reason for that. Those companies produce a quality product that will last without major repairs or problems for the life of the piece of equipment. Another reason is that those companies stand behind the products that they make with guarantees and warranty that put the consumer at ease knowing they are protected and taken care of the way they should be.
Maybe we all have a few extra dollars in our pockets right now from a tax refund or some rainy day money that could be well invested in a good quality lawn mower for under $500 before the season gets into full swing and the prices jump.