When spring rolls around, one can be assured of two things: flowers will bloom, and grass will grow. While it may not be advisable to go mowing down the flower bed, it is certainly a good idea to keep the grass nice and
short. A great way to do that is with the trusty Craftsman Hand-Push Reel Mower. Backed by the high-quality and long-standing Craftsman brand, the company's reel push mower is a fine way to keep the grass short and the earth green.
Craftsman Hand-Push Reel Mower Review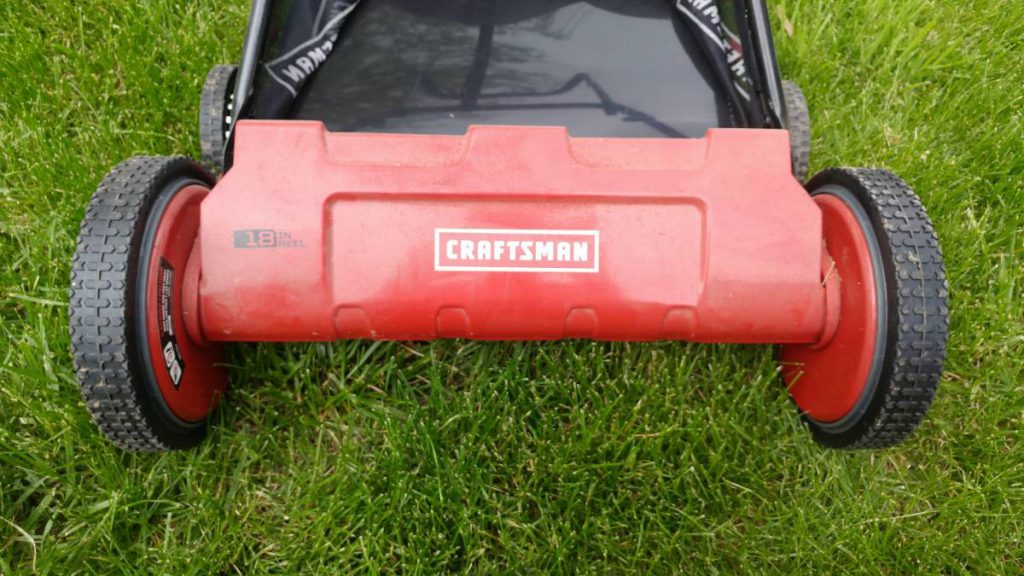 I received my Craftsman Hand-Push Reel Mower as a Christmas gift (no, my parents did not force me to mow the lawn—I actually asked for a mower, as I love to get outdoors and get my hands dirty) and have been a fan of it ever since. After nearly a decade, the lawn mower still works wonderfully well, all the parts are in great shape, and I have never had any problems with it.
Unlike a gas-powered lawn mower, there are no problems with having to "start up" the mower, and also there are few, if any, expensive "problems" to worry about. That means no spark plugs to replace, no motors that will burn out, and no wiring problems that will crop up. Of course, having a reel push mower means having to actually push the mower along without the aid of a motor to move the mower forward or in a powered cutting blade.
This may be a hassle for some, especially when it comes to cutting grass in larger yards. However, for the typical small suburban yard, the Craftsman Hand-Push Reel Mower is perfect. Tougher grasses can be harder to cut and, therefore, require more exertion.
Where I am located (West Central Florida) St. Augustine grass—which has very thick and wide blades—is quite popular. It can also be a bit of a workout to mow. But what is the problem with a little effort when you can do the yard work and get some much-needed exercise at the same time. After all, what's wrong with a little sweat on the brow? Be sure to sharpen the mower's cutting blades after every few uses to keep the mower's efficiency high and your physical exertion just a little lower.
While many people will purchase and use a push lawn mower I know that for me the brand that I will purchase from now on is a Yardman push lawn mower. While I prefer my riding mower for doing my yard in a quick timely
manner for the small jobs and for the side yard I always use my Yardman push lawn mower. While many people will purchase different brands I would have to say for ease of use and the dependability you will want to purchase a Yardman push lawn mower.
There is also something else that makes the Craftsman Hand-Push Reel Mower nice—it's "green." Though I did not associate using the Craftsman Hand-Push Reel Mower with being eco-friendly ten years ago, I now realize in this day and age to being environmentally conscious that the push mower eliminates the use of gasoline, thus reducing carbon emissions. There also is, therefore, a reduction in chemicals being used on or in my yard. The Craftsman Hand-Push Reel Mower also reduces noise pollution, thus making me a better neighbor, too(!)
The Craftsman Hand-Push Reel Mower's compact size makes it very easy to store in my shed, and it is very easy to adjust the height of the mower (my model requires simply a ratchet to move the rear rollers up and down). Maintenance has been nothing more than oiling the moving parts about twice a year, keeping the blades sharp, and cleaning off the grass cuttings and dirt with a rag and toothbrush. Outside of that, this mower requires little work to keep up, and has been thoroughly enjoyable to use.
A 16″-wide cut Craftsman Mower, the kind I have, retails for $99 on the Sears website (the 18″ come with bag and costs $120). The website states the mower weighs 25 pounds and is made from heat-treated, alloy steel. Cutting heights range from 5/8″ to 2-1/4″ and the mower comes with a 2-year limited warranty.
One downside for those purchasing the mower today is that Sears no longer sells a grass catcher for the Craftsman Hand-Push Reel Mower. I have one for mine and it is nice to have a way to catch the grass clippings. However, many green thumbs will tell you that leaving the grass clippings on the yard helps to fertilize the grass. To reduce thatch build up, I recommend keeping the grass short so that you are not leaving extraordinarily long blade clippings on the grass.
Overall, the Craftsman Hand-Push Reel Mower makes a fantastic purchase that will las for many years. It is an inexpensive, low-maintenance alternative to the gas-powered law mowers, and with its quiet, pollution-free operation, it is a wise choice for being a good neighbor and a "green" citizen. And if your goal is to stay fit and healthy, nothing beats a half-an-hour of pushing a lawn-mower around the yard!