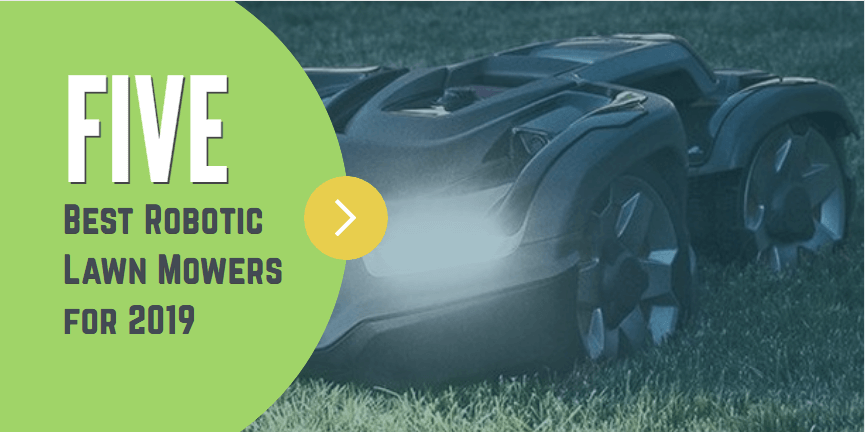 There are so many different types of robotic lawn mowers available on the market. You haven't bought one yet and are faced with all the options;or you already have one and would like to change; or you are moving to another place and realize that your current model will not be up to the task facing it at your new place.
In this article all the different options are discussed and I hope this will help you to make the right decision of what is the best robotic lawn mowers on your particular situation.
Your decision will be determined by the following considerations:
Budget: Affordability
Auto-Programming
Size of your lawn
Lay-out of your lawn
Slope of your lawn
Maintenance and service of the appliance
Environmental issues
The premium you put on comfort
Other personal issues
Safety
Noise
Discussion of the 10 considerations mentioned above
Budget: Some people can buy whatever they want, but others are restricted or simply won't spend more than a particular amount on a product whatever that may be. When money is not that big a deal, all the options are open to you and you will then make your decision for other reasons.
Auto-Programming:  This feature continues to be unique for high end robotic lawn mowers. Here is how it works: While the robot is cutting your grass, the on board computer "takes note" of how much resistance the blade motor is experiencing – along with some other factors. Based on the calculation, it predicts when the lawn will need to be mowed next time. If your lawn is under control, it will reduce how much time it mows. However, if needed, the robotic lawn mower will spend more time cutting grass – all within the work schedule you defined.
Your decision will then be determined by other considerations:
Your decision will be determined by the following considerations
(that is, when affordability is an issue)
The size of your lawn: If your lawn is really small, the best option will surely be a Robomow RC306. These mowers are great for small lawns, easy to operate, effective and a real pleasure. For bigger lawns you will have to choose between a Robomow RS622 and a Husqvarna Automower 315X. Then other issues will come into play, like maintenance, impact on the environment and safety.
Impact on environment: If you have strong convictions on pollution and stuff like that, surely any of robot lawn mowers are the  option; you'll have to go for one of the gas models.
The automated robotic lawn mower are more reliable, have less impact on the environment and are low on maintenance and service costs. On the other hand the electric cord is a bit of a nuisance and does pose a relative safety risk. That goes for mowing the lawn when it's still wet as well. Gas lawn mowers are easier to handle having no cord to negotiate, but they have a bigger impact on the environment (using gas and oil), are not as reliable as electric mowers and cost more in terms of maintenance and service. They also make more noise.
As far as I'm concerned, after a few years of struggling with a gas model, I switched to an robotic model and never regretted the day – in spite of having to negotiate the electric cord all the time. This little inconvenience is overshadowed by all the benefits of the electric mower. What a pleasure!
Reliability: Robot lawn mowers are very reliable. Pull the trigger and they go – time and again. They also have a safety cut-out, which will safeguard the motor from overloading. Unfortunately, this does not hold true for gas lawn mowers. One does tend to struggle from time to time, in particular in the fall when a lot of dust tend to block the air filter, dirty stuff gets into the carburetor and the real trouble begins.
Maintenance and service: Robotic mowers have less hassle – no need to replace oil and service the machine on a regular basis, which is imperative for gas mowers.
Size of your lawn: If you have a BIG lawn, lawn services will cost you a fortune, so you should actually consider a lawn tractor or run the risk of spending hours over the weekend sweating it out with a push lawn mower. A robotic lawn mower is a marvellous appliance, but not suited for lawns bigger than 20,000 sq. ft., unless you get two to do the job. For a discussion of the different pro's and con's of a robotic mower, please read my article on this subject.
As a matter of fact, the cheaper lawn tractor models and robotic models fall in the same price range, which makes making a choice considerably easier.
Lay-out of your lawn:
If you have a big lawn and actually has to go for a lawn tractor, the lay-out of your garden becomes very important. The reason for this is the fact that no lawn tractor can deal with sharp corners and interesting little spaces in a satisfactory way. But there's a way out of this. Simply adapt your lawn lay-out to the capabilities of your tractor and the results will be satisfactory. If you do not want to do that, simply accept the fact that you will have to supplement your lawn tractor with a small gas, electric or battery lawn mower to reach all the little tricky corners where your lawn tractor could not reach.
Slope of your lawn: If your lawn is really slopey up to 30 degrees, you should consider Husqvarna Automower 435X AWD in particular made to negotiate this problem.
Personal comfort: If you like a nice lawn, but don't want to do the job yourself for whatever reason and at the same time are not willing to pay too much (like in the case of lawn services), you should consider a robotic lawn mower. You set it up once and that's it. It does the job – you don't.
Other personal reasons: If you hate working in your garden, but still like a nice place, a lawn service is basically your only option. Some people simply just don't have the time to work in their gardens, so they have to make use of lawn services in any case.
So, if your lawn is really BIG, it seems like your only option is a lawn tractor/driving lawn mower, unless you're willing to pay a fortune to have it done by lawn services. If your lawn is small to medium size, you could consider the Robot mowers, if you really like a beautiful lawn, but are not will to do it yourself or pay a lot of money to have it done by lawn services.
If you like working in your garden, obviously you could go for a gas or electric lawnmower, depending on the different issues discussed above.
The Best Robotic Lawn Mowers for 2019
Well, just as the name suggests, robotic mowers are intelligent technological devices which you can just program to trim the grasses on your garden, backyard or lawn. You do not have to oversee its work it will do its job as programmed, even when you are not around. In addition, you do not have to carry it to its charger for an energy recharge, because as long as it has a perimeter wire for guidance, it will seek the right device to top up its store of energy on its own. Robotic mowers have been with us for a few years now and many early buyers have had enough experience to make it easier for new owners to make a choice.
1. Worx Landroid M 20V WR140 Cordless Robotic Lawn Mower – $999.99
You've simply had enough of mowing your lawn on weekends?
Well, it seems like you have 3 options:
1. Sell your home and move to a flat with no garden at all;
2. Pay a small fortune to have a garden services company do it for you;
3. Consider buying a robot to do the job for you!: A cheapest best robot lawn mower, Worx Landroid M 20V.
What is in the box:
Landroid M Robotic Mower
Hex Key
Cutting Blades (9)
Screws (9)
Wire Connectors (1)
20V 4.0Ah Power Share Battery
Landroid Perimeter Wire (590ft)
Wire Ground Pins (250)
Measuring Tools (2)
Find My Landroid Cellular Module
Landroid Charging Base and Charging Cable
Landroid Base Ground Screws (8)
Charging Base
If robotic lawn mowers are new to you, the charging base is where the mower goes "home" to charge. The Worx Landroid M 20V WR140 charging base is sturdy charging base which comes to my surprise because the previous models are covered. The charging base is heavy enough that strong wind would not cause it to move even if it were not staked to the ground. It is secured to the ground by the same pins used for the perimeter wire. The base is weatherproof and is meant to stay outside all the time, even during the winter months.
Perimeter Wire
The Landroid M 20V WR140 comes with a 590 ft roll of perimeter wire, which is enough to cover about a quarter of an acre. Prepare to use about 500 ft of wire for every quarter acre of yard – you may need more or less depending on how many obstacles you run wire around. LawnBott perimeter wire is designed to stay outside all year round. Installation is a one-time event.
Wire Ground Pins
The Landroid M 20V WR140 comes with a bag of 250 pins. These pins hold the perimeter wire and charging base to the ground. The end of the pin can be snapped off to shorten the length. At first I thought this was a useless "feature" until I tried nailing them into my hard clay soil. It did not take long before I was snapping off the ends as soon as I took them out of the bag. Landroid pins serve their purpose very well but I would have liked the area around the head to be firmer. I broke several pin heads while nailing them in the ground. Here is some advice – if your ground is very hard, use water to moisten the soil. I went through about 200 pins per 500 ft of wire. If you stake the wire down, grass (and their roots) will completely conceal it. It usually takes about 2 – 3 weeks for grass to hide the wire.
Features
The Worx Cordless Robotic Lawn Mower is one of the best Eco Friendly Robot Lawn Mower on the market right now. The mower is powered by a rechargeable 20V 4.0Ah powered battery that is lightweight and very efficient. It does not have the pollution that is associated with gas-powered alternatives nor the added cost of gasoline. And you don't have the hassle of dragging extension cords everywhere you go.
This version also provides great cutting efficiency, is programmable easily, and is quiet. It features GPS and Wi-Fi radios and a helpful mobile app. On the top of the mower is a 9-button control panel with a 2.5-inch LCD and a huge red stop button, which stops the operation of the mower immediately, the rain detector, and an ACS slot. The ACS module is an optional accessory ($49.99)  for the mower to navigate around trees, outdoor furniture and other obstacles using Ultrasonic detection.
The LCD shows the current time, date and signal strength indicators for the Wi-Fi and battery levels, and tells you the amount of real time work completed. Use the menu buttons to generate cuts depending upon your size of the lawn and set working areas, Wi-Fi settings and rain-time setup.
The mobile app is faster and handy while the control panel is easy to use, since it allows you to specify configuration anywhere on your smartphone. It opens onto a home screen with an image of the mower, the battery level and its name.
It is quite easy to first time install the WR140 but it can take time to put the perimeter wire and it takes quite a lot of physical work with much of the time you spend in hands and knees to put stakes in the ground.
Benefits:
No gas or oil, hang it up on wall and nothing leaks.
Starts as soon as you start the app. Stops instantly too.
Quiet, no ear plugs, cut grass late in the evening without bothering neighbors.
No annual maintenance, no oil changes, no stale gasoline in the spring.
No Brainer.
Pros:
Maximum cutting up to a ¼ acre
3-blade cutting/mulching system
GPS module and Wi-Fi Connectivity
7 inches Cutting Width
Mobile App, Rain Sensor , and Anti-Theft Features
Cons:
Tips: If there is any holes in your lawns, you need to cover those holes first. Otherwise the Landroid will be stuck in these "holes" because the front side of the Landroid is so narrow to the ground.
Bottom Line: Tons of fun to watch and they include rain sensors that make it almost impossible to get harmed by weather. Not exactly frugal though, they run $999.99 for the cheaper ones.
2. Robomow RS622 – $1,699
The Robomow is the healthiest way to manage clippings for your lawn. It mulches in three separate chambers using high RPM motors (4000 RPM). The result is more effective mulching than most conventional mowers, leaving smaller clippings and mulching leaves so they disappear into the roots of the grass. These smaller clippings provide for quick decomposition into a natural fertilizer for your lawn. There is absolutely no need to collect the clippings or rake the leaves.
Compare with gas powered mowers on cost. THINK GREEN!
If you cut grass for 2 hours a week for 25 weeks with a 5.5 HP gas powered lawn mower, you're spending $70.00 for gas ($1.00 per liter), and $300.00 – $600.00 for a lawnmower (initial cost), that you still have to push! And riding mowers cost even more, making the choice for robotic lawn mowers even easier. You will also help decrease your carbon footprint by using a robot lawn mower on your property!
Is cost the only reason to switch to Robolawn?
No. Professional landscaping services provide you a great service, they come to your home every week, cut the grass very quickly with a push or riding lawn mower. That's a great service for you, but is it good for the grass? The answer is NO. Robotic lawn mowers can cut every day or every other day as needed, your yard is always maintained and the small grass clippings actually self-fertilize your lawn. Your yard will be much healthier. Additionally, they don't leave tracks like a traditional push mower or riding lawnmower because it's just 51 lbs., you end up with a plush carpet of grass. The Robomow RS622 will even learn how often it needs to cut your lawn to maintain it perfectly.
Rain Protected:
You needn't worry about leaving your Robomow RS622 out at night or while you're away. The Robomow on-board rain sensor avoids mowing during rain. When the robotic lawnmower detects rain, it returns to its loading base automatically and resumes cutting the grass after rainfall. The rain sensor can be deactivated. The Robomow is weather resistant, and mowing does not damage the mower of the lawn.
The rain sensor on the Robomow RS622 can be adjusted by turning one of the probes. The closer the contacts, the more sensitive it is to rain. As with the other robotic lawn mowers, you have three options in regards to the rain sensor:
turn off the rain sensor, thus ignore rain
automatically resume cutting grass after rain or
wait for instruction from the owner after a rain.
In our test, the rain sensor works perfect right out of the box without any adjustments. After it starts raining the mower will turn off the blade and go back to the charging garage. There is a delay before the mower actually returns to mowing the grass which in most cases is just enough time for the lawn to dry.
Up to 20-Degree Slopes:
The Robomow RS622 is capable of cutting slopes up to 20 degrees. The wheels can travel across entrances, sidewalks and many others that are not grass, and are intended not just to mash all grass kinds. This robot can then automatically travel to the charging base from one region to another.
Pets and Children are SAFE:
Don't worry. It isn't going to shave the cat. Many robot lawn mower owners have pets and this isn't a problem. The animals get used to the robot lawn mower and it becomes like a member of the family. Many consumers have even given personal names to their Robot Mowers and Lawnbotts. If the robot mower comes into contact with any object, whether animate or inanimate, its collision sensors will cause it to bounce back lightly, reverse and set off in another direction.
Never have to rake again!
The Robomow RS622 will even feed your lawn with a natural fertilizer. Because robot mower cut your grass more regularly, the clippings produced are so fine that they decompose quickly, providing a natural fertilizer for the lawn. This also means that there's no need to collect the grass.
Pros:
22 inch wide cut
Additional Power wheels ($99.99) for better traction
Maximum cutting up to a 1/2 acre lot
Mow up to 50 – 70 minutes on one charge
Mobile App, Rain Sensor , Anti-Theft Features, Wireless Remote control
Cons:
Bottom Line: The Robomow RS622 itself is an amazing little device that has handled my large yard with ease, delivering a high quality cut superior to that of a high-end robotic mower. I was concerned that my front yard full of trees would be a problem, but the Robomow RS622 expertly navigates through the maze of trees with ease. I was worried that my thick grass that used to clog up my lawn mower's vacuum pickup would cripple my tiny robomow – in fact my grass is now even thicker and better cut than ever!
3. Husqvarna Automower 435X AWD – Best robotic lawn mower for hills
The Husqvarna Robot Lawn mower holds the distinction of being the first robotic lawn mower available commercially. The company was able to come up with their first fully solar automatic robotic lawn mower between 1995 and 1999.
Benefits
Most users who have purchased the Automower claim they are enjoying the benefits of a "full time gardener at work" whatever the weather condition be outside.
Husqvarna Robotic mowers are user-friendly, thus it can easily be operated by the even not-so tech-savvy individuals. Its controls are very easy to operate it's just like using your mobile phone. You can pick out the settings to match whatever task needs to be accomplished.
A best robotic lawn mower for slopes from Husqvarna is the Automower 435X, considered as the world's first four-wheel-drive fully automatic lawn mower which is incline of up to 70 percent. The Husqvarna Automower 435X AWD can handle up to 35 degree slopes. In our test, it can handle steeper slopes than what is advertised. The robot  have a tendency to pop wheelies on slopes that are too steep while traveling uphill. The wheelie bar extensions help solve that problem.
The husqvarna 435X robot lawn mower integrates a onboard GPS system with a charging station thus it uses less energy than the conventional lawnmower. If its nickel-metal-hydride battery needs to be recharged, the Automower automatically goes back to its charging station.
No harmful gases are emitted while you are putting your lawnmower to work, thus proving to be healthy for both humans and the environment.
The Husqvarna 435X Automower is equipped with a state-of-the-art technology that allows you to define perimeters using wires. Your automatic lawn mower can continuously cut up to 3500 m² area in a random crisscross pattern. It does not go beyond the boundaries for it can intelligently follow what you have set it out to do.
The automower is equipped with an anti-theft mechanism-alarms and security codes make it worthless for someone who tries to steal it.
Since it does not emit any sound, you won't be disturbing your neighbors even when it's mowing your lawn late at night.
Here's the Husqvarna 435X Pros:
This is good for a lawn up to 3500 m²
Inclines of up to 70%
Low costs, about 18 kWh per month
Onboard GPS system
Sold with 9 extra blades
Can continuously run for 100 minutes
GPS Theft tracking, Lift sensor, Tilt sensor, Ultrasonic sensor, and PIN Code
Cons:
When you're shopping for your very own Husqvarna Automower, there are different types of models that you can choose from to suit your individual needs. Different terrains require different automower models. Uneven lawns demand automowers with large wheels.
No matter whether your lawn is the simplest one in the block or filled with rolling terrain, the Automower has proven, time and again, that it can tackle any type of terrain. It can find its way around a tree or rock or even pets in your yard.
Bottom Line: As with most all robotic lawnmowers the real work is properly preparing the yard. This one time setup will be the last real work you'll ever have to do to keep your yard well trimmed, so don't take shortcuts like I did! Despite the instructions, I didn't bother to mow my grass before laying down the parameter wire. I figured that was now the job for the Husqvarna 435X to do, but by not cutting the grass first the parameter wire was elevated too high and the robot cut it several times. I'm still having some problems with my patches coming loose, and I may have to rerun a new wire. Again, if I had just followed the instructions this would never have happened.
4. Honda Miimo HRM 310 – $2499.00
Do you have a huge lawn and you are tired of pushing that antique old lawnmower around for hours at a time, or does your current riding lawn mower just not quite cut it? Honda Miimo HRM 310 could be the answer to your problems.
This robot mower offer up excellent power up to 0.37 cutting surface area, and ease of both operation and assembly.  In this price range, not only are these mowers slightly more affordable in the world of robotic lawn mowers, but still amazingly effective, with great brands, models, and reputations.
The Miimo 310 features a lithium ion battery of 22.2V/1,800 MAh with a cutting time of 30 minutes. Since Miimo does not offer a mobile or remote app, The on-board control panel is used to program everything. It has a height of adjustable cuts of 0.8-2.4 inches and can be performed up to 25 degrees. The engine is extremely quiet: 58dB are in standard mode and 55 dB are in Quiet mode.
There are also built-in safety sensors that will shut down your mower if it comes to contact with any solid object but there is no rain sensor. So you have to leave the mower in the rain and stop using the onboard controls yourself if you want to interrupt its scheduled working cycle.
The Honda Miimo HRM 310 is certainly worth considering if you're ready to invest in a robotic lawnmower. It provides various programming alternatives and varying cutting times, and has done wonderfully during our tests, cutting smoothly and without noticeable cuttings or tire tracks.
The Miimo HRM 310 seems slightly quieter than the Husqvarna Automower 315X. The motors are slightly smaller which could explain the difference. When the blade revs up to top speed, it produces the most noise, but still quiet enough to run at night. In our test, the Honda HRM 310 can barely be heard when standing 15 feet directly from it.
Pros:
Quiet and Efficient
Trims Grass Evenly
Cuts To A Fine Mulch
Lightweight
Anti-theft Alarm.
Cons:
Expensive
Requires Service Representative Installation
No Wifi Or Bluetooth
Lacks App Control
No Rain Sensor
Husqvarna Automower 315X – $1,999.95
Summer is here and we're getting our yards back into shape. Why not start things off right with a new robotic powered, efficient lawn mower? Robot mowers have REALLY changed for the better in the past few years. If you've blown them off as highly polluting junk, think again my friend. Most new mowers have been tweaked to keep giving you the power you need, while taking it easy on the planet.
Husqvarna 315X can work on up to 0.4 acres of lawns. This powerful, efficient and easily maneuverable mower features an IPX4 waterproof rating, floating deck design, Google Maps and more. Unlike some rivals, the 315X does not come with a remote control, you are out of luck in situations where it seems to be lost or you want it to be manually led in another direction.
We're sure of the GPS navigation agility of this lawn mower, because it was a little under the hour when we took it to our housing test place before we chose to force it back to the station–and it finished the task successfully at the first attempt.
You can operate the 315X with the on-board panel that provides a simple, easy-to-navigate menu system, but mobile apps are much simpler to use. That means, for original installation and pairing with mobile app, you have to use the on board controls.
Pros
Quiet
Excellent Cutting
Edging Performance
Slick Mobile App customization
Bluetooth, Cellular, And Gps Radios
Cons
Expensive
Random mowing pattern
Extra Installation Costs
No Rain Sensor
No Remote Control
Final Though
Best robotic lawn mowers can save you time and effort in maintaining your lawn. They mow the lawn for you, thus sparing you from the hassle of using ordinary lawn mowers. Using these machines offers a lot of advantages. One is that they run on rechargeable batteries entirely, which means that you do not have to supply them with oil or petrol, so there will never be any messy work. Another advantage of using robotic mowers is that, unlike most lawn mowers, this novel mowing technology trims the lawn very quietly, so you do not have to bother your neighbours with that irritating mowing noise. Additionally, as robotic lawn mowers do not use petrol, mowing your lawn will not add any pollutants to the environment since the device does not produce carbon dioxide emissions. So, mow your lawn the convenient and environmentally-friendly way with this great product.